If you are like me, your eating healthy and you don't want to snack on a lot of junk in between meals. Oh yeah, it's easy to buy a bag of chips, a cookie or some other type of snack that's loaded with empty calories. Why not pop a stick of gum in your mouth that is under 5 calories each piece. I know it's not a honey bun or a bag of Doritos -- but that's the good news, you are skipping all of those unwanted calories and you are still able to enjoy chewing something that has a good flavor and holds you over till the next meal.
I use to purchase Mentos gum from Walgreens for a little under $5 a pop.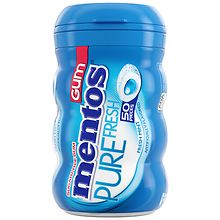 I love this gum and it satisfied my need for a snack. But I was not keen on the price. I would wait till Walgreens had them on sale for 2/$5. I was willing to pay $2.50. Well I don't have to anymore. I found at my favorite store "The Dollar Tree" another fantastic savings.
UP2U gum by none other then Mentos! This gum comes in three individual packs of the above for you guessed it $1. Still great Mentos flavor but less the price. I have racked up on these and my boys enjoy them as well. There are two flavors in one pack and you decide which flavor you want -- hence the name "It's UP2U." There are 14 pieces in a packet (comes a pack of 3 -- totaling 42 pieces of gum). This is also a sugar free gum. My favorite is the Berry Watermelon and the Fresh Mint (which comes in the same package).
If you are looking for a great snack in-between meals -- give this a try.
Until next time...